Answer this survey to help shape Cochrane's future COVID-19 response. 
Cochrane's response to the COVID-19 pandemic so far has been a collaborative effort and drawn on the strengths of our global Community. We are proud of the COVID-19 evidence we have published, and we are grateful for the rapid innovation, flexibility, and responsiveness to changing priorities that our Community has shown. But as an organization that wants our choices to be evidence based – and with the global pandemic likely to continue for the foreseeable future – even at this early stage we want to gather data and a wide range of views on Cochrane's COVID-19 response, reflect on the findings, and use them to guide our future activities and approaches.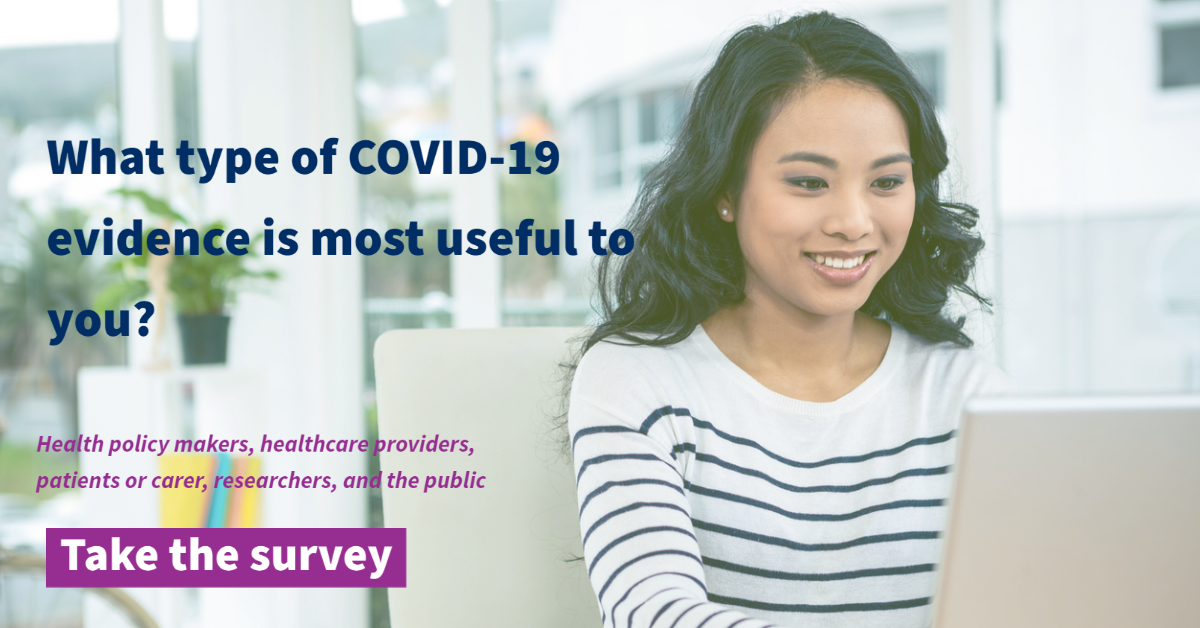 For this reason, over the next month, we would like to hear from you, the users of our evidence.
What types of COVID-19 evidence are influencing your decisions? 
Where do you get your COVID-19 information from? 
What are the types and formats of evidence you need most? 
The answers to the survey will help influence what is produced in the future. We want to hear from everyone about using research evidence – health policy makers, healthcare providers, patients and carers, researchers, and the general public. 
Please provide your input by taking 10-15 minutes to complete this survey by 21st September, 2020: https://www.surveymonkey.com/r/XSRW9W3. It's open to everyone. You do not need to give your name and you can leave any questions blank if they are not relevant to you.
Thank you for helping to shape the future of Cochrane's COVID-19 response.