Recent removal of Cochrane's Instagram post and shadowban highlight the realities of Cochrane's call against misinformation
Cochrane's health evidence syntheses are recognised as the international gold standard for high quality, trusted information. Our reviews are used to support global and national health guidelines and policy. We advocate for evidence-informed healthcare and make our trusted evidence accessible and available to all. One way we do this is using social media to reach different audiences. 
In recent days, Cochrane has again been the subject of an Instagram misinformation blunder, with a post about a Cochrane Review on Ivermectin for prevention and treatment of COVID-19 being removed from the platform. Also Cochrane's Instagram account has been denied the verification blue check mark several times. We are aware that other research publishers, such as the BMJ, have also experienced similar issues.
The first time this happened in November, Cochrane's Instagram account was 'shadowbanned' for a few weeks; people could not tag or mention @cochraneorg on the platform. While little specifics were given, there was a notification that the account 'repeatedly posted content that goes against Community Guidelines on false content about COVID-19 or vaccines.' This shadowban happened just days after Cochrane helped lead a campaign to tackle misinformation for World Evidence-Based Healthcare Day and launched a course with Lifeology about identifying and preventing infodemics.
"The removal of our Cochrane post on Instagram comes just days before the launch of the Cochrane Convenes Report which calls for generating trust in evidence and countering mis/disinformation." says Cochrane's Editor in Chief, Dr Karla Soares-Weiser.
Drawing on experiences of the COVID-19 pandemic, Cochrane Convenes brought together leaders in health research and health evidence to explore and recommend the changes needed in evidence synthesis to prepare for and respond to future global health emergencies. The full report of the recommendations is being released 16 February.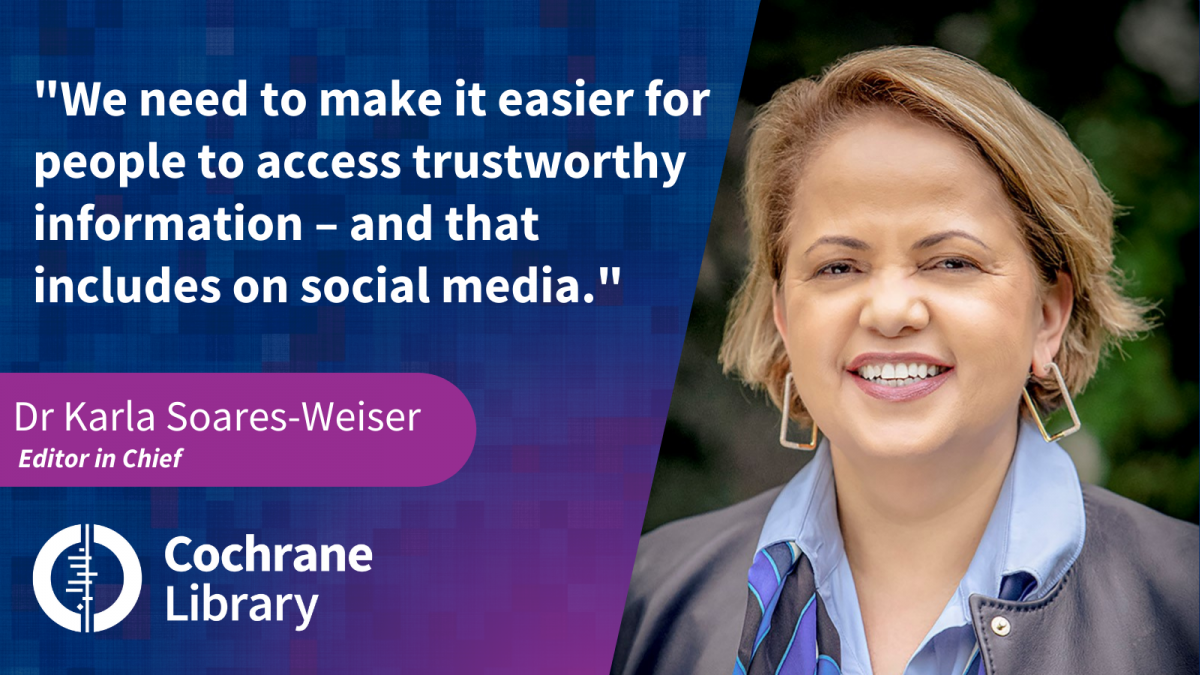 "It's not clear if there is an issue with Instagram's algorithm or if the issue lies with people 'gaming' policies and reporting posts as misinformation when they are not. What is clear is that there is an issue with how you hold those deliberately creating and sharing mis/disinformation to account and how you form accreditation and approval for official sources of evidence that have met certain quality control standards. We need to make it easier for people to access trustworthy information – and that includes on social media."
Cochrane is a proud supporter of WHO's call to action on infodemic management and is currently collaborating with science communicators at Lifeology and the Association for Healthcare Social Media  and welcomes the opportunity to work directly with social media platforms and with others interested in tackling misinformation.